Good evening my runner friends!
I almost did not participate in Sunday Runday today. It's been gloomy all day, pouring rain and wind. I am a total fair weather runner so was waiting for it to clear up. I don't even own a good rain jacket or windbreaker which is my excuse. I had almost given up hope and was going to make supper and call it a night on the couch when I noticed the rain had let up. I turned the stove off and threw my shoes on to hit the trail.
I can't tell you my time or pace because my phone died halfway through my run. I did about 5km with an extremely slow second half since I was feeling yesterday's 5k. I did manage to run my fastest km starting out at 6:11, which is awesome. Hoping I can keep a good pace next weekend since I signed up for the Calgary Stampede Road Race 5k. I'll be bringing Liam with me so will be slower pushing the stroller. I'm excited that Liam will run his first race afterwards. I admit, that was my only motivation for signing me up in the first place.
Enough about my rambling though, let's see how everyone else did today!
From Danielle:
Hi Bex Factor readers! Happy #SundayRunday!
My #sundayrunday is a little different. I've unofficially labelled it #stairsprintsunday and it's become a bit of a tradition for me and some fellow gym-goers. Every weekend we meet at one of my favourite spots in Lethbridge and all head down to run a big set of stairs for 30 minutes of sprinting intervals. It's BEAUTIFUL down in the coulees this time of year and I can easily burn 500 calories in 30 minutes running up and down those steps. I've been struggling with shin splints and adrenal fatigue lately, which has put a cramp in my long distance running, but stair sprints are a perfect alternative and have really helped me keep up my cardiovascular fitness while I am recovering. We go almost every weekend, so if any Lethbridge readers ever want to join, fire me a
tweet
. The more the merrier! It's honestly one of the highlights of my weekends.
Thanks so much to Becky for featuring me in this week's #SundayRunday! I hope everyone had a fun and productive long weekend! xo
1 mile with the running stroller this morning then 5K at home this afternoon. Reached my goal of 60 miles this month!
I was able to get out for a nice 8km with Leaf. We got out before the rain hit while the little bit of sun was shining! Poor guy really starts dragging his butt after 5km, but that only pushes me to keep going because I know he and I can both do it!! I usually only do 5km runs, but every once in awhile its nice to get a bit further than that! Today I even ran without music – I took in all the sights and sounds!
If you look very very very closely, you can see the mountains in the picture. Best I could do on my run! 🙂
happy #sundayrunday Thanks for having me!
Got in 6 miles on the treadmill this am, first official day of training for the Lethbridge half 🙂 Wish it was an outside run but not in the rain for this girl!
(Lindsey didn't have a photo from today's run but wanted to share a fun photo from yesterday's Color Me Rad run in Calgary.)
I wasn't going to go for a run today but I am a bit sore from the Color run yesterday so I wanted to loosen up my legs a bit! I set out on one of those unplanned runs where I just ran as far as I felt I could and ended up doing a really nice 4KM run, on the fast side (for me) because of the dark clouds rolling in! Since it was the middle of the afternoon it was HOT but I'm feeling good knowing that it's done for the day!
I was also at that colour run and will be posting my recap later this week! Such a fun day.
Last week I came across this info graphic on the three biggest running pains and how to treat them that I thought would be of interest to my fellow #SundayRunday friends.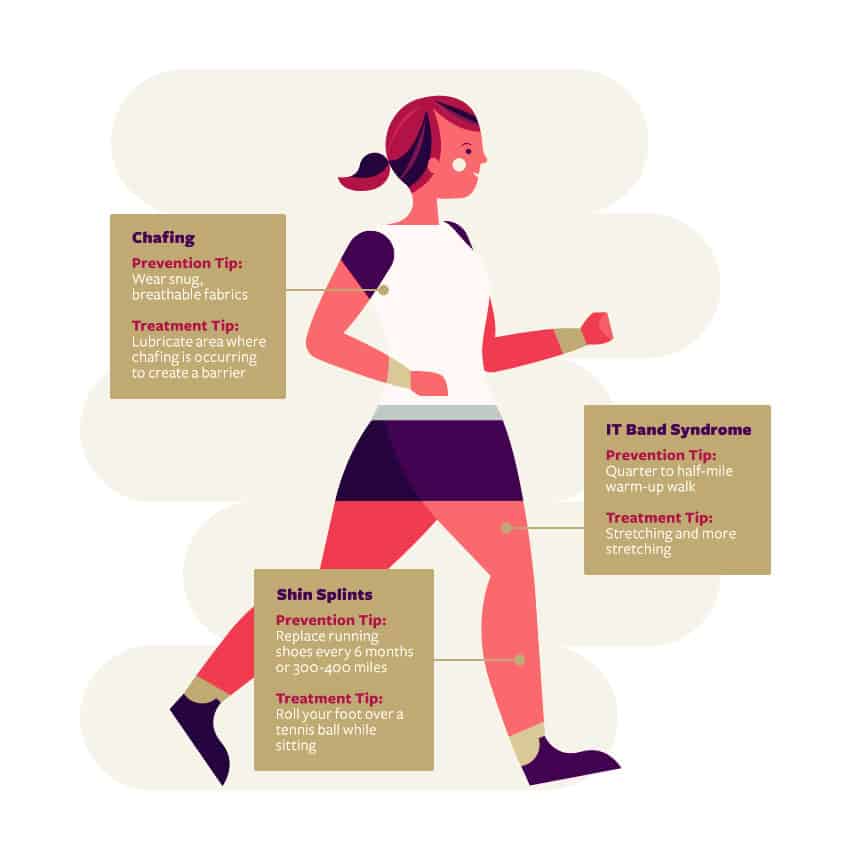 "3 Crazy Running Pains—Solved!" on Health Perch
Remember, I'm always looking for people to join in my virtual run date! If you would like to join next week, email me a photo of your Sunday Run, with a paragraph about it to becky (at) thebexfactor (dot) com.